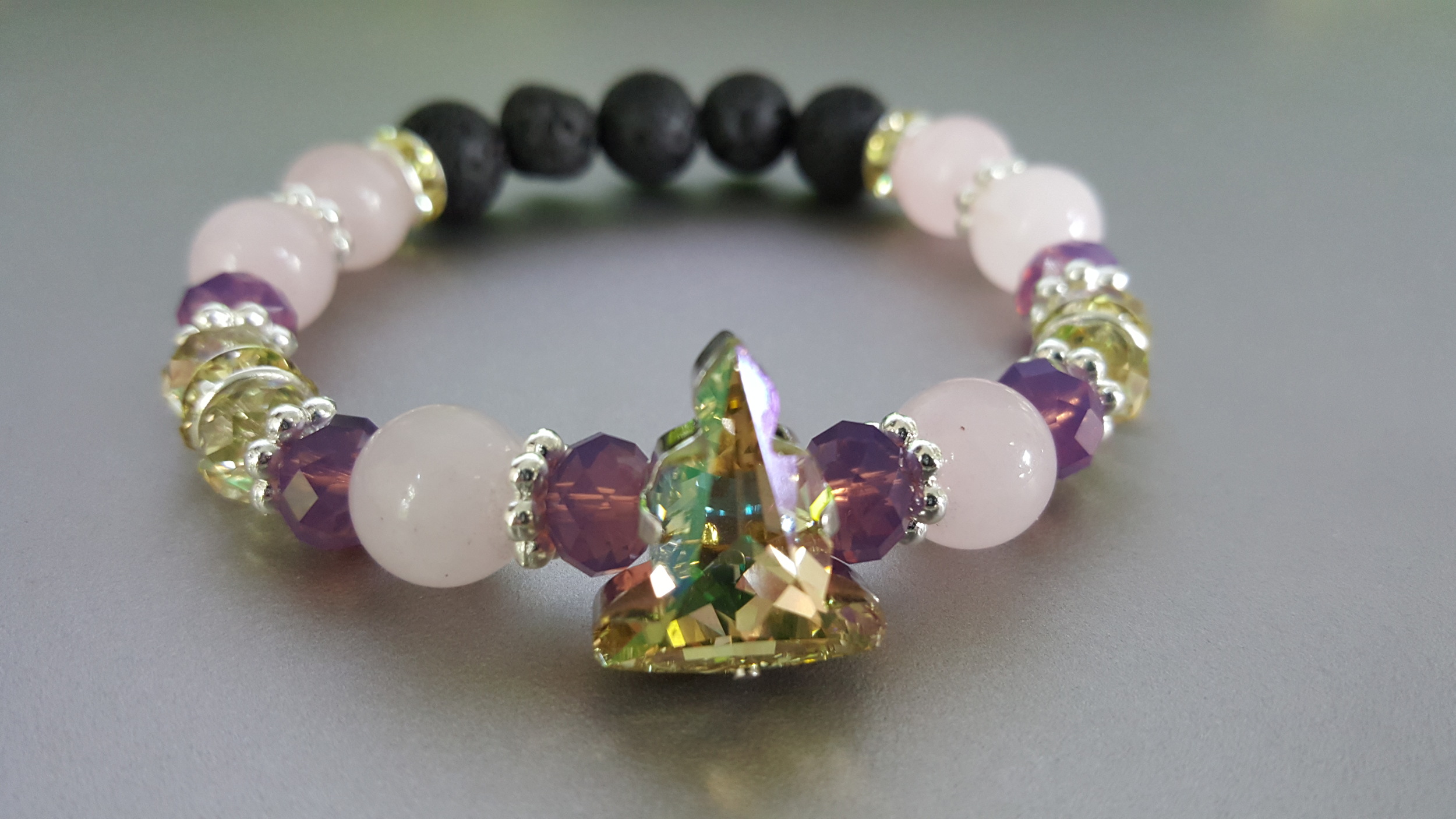 GREEN TARA
Green Tara, filled with youthful vigor, is a goddess of activity. In Buddhist religious practice, Green Tara's primary role is savioress. She is believed to help her followers overcome dangers, fears and anxieties, and she is especially worshipped for her ability to overcome the most difficult of situations. Green Tara is intensely compassionate and acts quickly to help those who call upon her.
The stunning Luminous Green Buddha sitting in the lotus position (Austrian crystal by Swarovski) gives this bracelet a strong focal point, flanked by Swarovski crystal briolettes in luminous green and cyclamen opal, along with 10mm natural rose quartz and lava beads. The refraction of light on the crystals is truly beautiful.
Each bracelet comes with your choice of KUMARA diffuser oil sample to be applied to only the lava beads. Small and large bracelet sizes are approximately 7 and 8 inches.
Stone Properties:
Swarovski Crystal
Swarovski Crystals are the most sought after crystals in the world today. These crystals, unlike other man-made crystals, maintain their sparkling brilliance and shine for the life of the crystal. What makes these crystals unique from all others is that the lead oxide level is a minimum of thirty two percent. When this level of lead oxide is used, it makes the crystal's transparency very clear. Highly skilled craftsmen then create prisms and add radiant colors in layers; as such, spectacular product is thus created. There is no other crystal that can compare to a Swarovski Crystal.
Many consider glass to have no metaphysical properties, but others who are aware, realize that glass has energy like all else in the Universe, and thus has its own set of properties. Glass is a melding of the traditional four elements, because through fire and air the silica earth element is made molten and transmuted into a liquid only to return to its earthly state as an apparent solid. It can be made to focus light or allow light to pass through invisibly or carry light waves great distances through tiny strands.
Metaphysically, glass represents and carries the energies of transformation, merging of elements, rebirth, focus and communication. The colors of the glass bring the vibrations of those specific color energies.
Rose Quartz
Rose Quartz is feminine in tone and one of the stones of the Great Mother. It not only activates the human Heart Chakra, it also links with the heart of the Earth and the heart of the Universe.
Its vibrations can penetrate down to the cellular level and reprogram cells for joy and longevity rather than despair and death. It encourages the dissolution of anger and resentment, fear and suspicion, and brings the Light of healing, the rebirth of hope and faith in the benevolence of the Universe. [Simmons, 331]
Lava
Properties: The elemental powers of fire and earth, lava rocks are rich in minerals from deep in the earth's core. Born of fire, these molten creations raise to the surface and become porous creations of earth. Fire is one of the four classical elements in ancient Greek philosophy and science. It was commonly associated with the qualities of energy, assertiveness, and passion, while earth was commonly associated with qualities of practicality, restraint and materialism.
Lava rocks embrace both elements. These red and black lava rocks are a wonderful tool for the root chakra. The can be used for grounding, protection and making a connection to the earth. They allow us to "root" scattered energy, find focus and bring balance to our center by embracing practicality. This stone is beneficial when your 1st and/or 2nd chakras are energetically weak. They encourage stimulation.