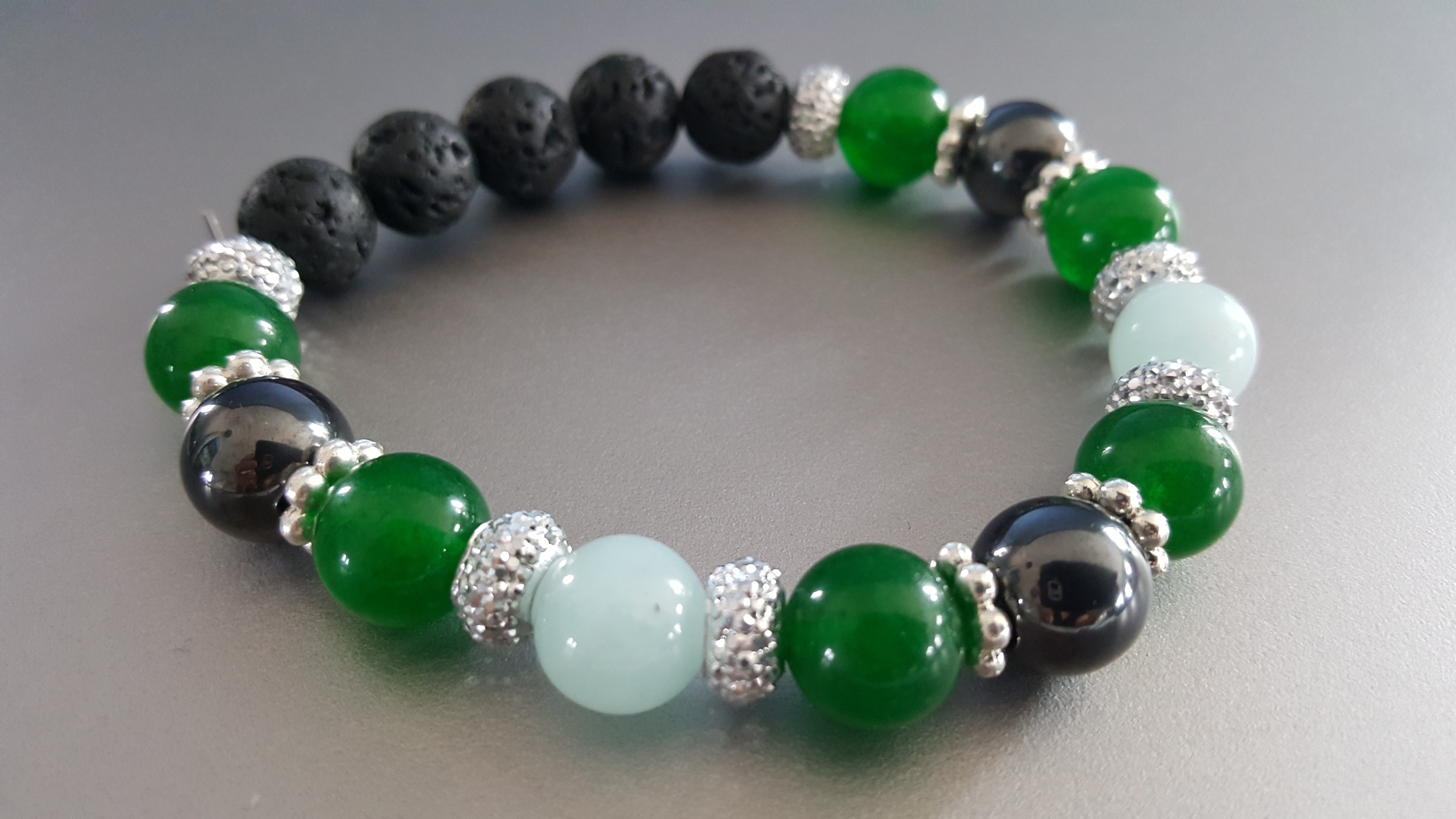 QUAN YIN
In Chinese Buddhism, Quan Yin is the Bodhisattva of compassion and mercy. In Sanskrit she's known as Padma pani..."Born of the Lotus"...the lotus symbolizing purity, peace and harmony. The stone most closely associated with Quan Yin is jade.
A dynamic mix of 10mm natural jade, hematite, aquamarine crystal and lava beads, with silver daisy and silver pave spacers, this bracelet is both bold and powerful with a decidedly feminine touch.
Each bracelet comes with your choice of KUMARA diffuser oil sample to be applied to only the lava beads. Small and large bracelet sizes are approximately 7 and 8 inches.
Stone Properties:
Jade
Jade in all forms has always represented nobility, not only of rank, but of ideals. The wearing of Jade assists in creating magic for the highest good and in protection from harmful or deceitful entities during spirit work. [Eason, 268]
Green Jade is an abundance stone, representing the flow of Divine energy into the reality of one's life. It brings harmony and happiness in business and family relationships, as well material abundance. It is a reminder to smell the flowers, touch the ones you love, and share your heart with others in affirmation of plenty. [Ahsian, 210]
Aquamarine Colored Crystal (heat treated)
Like humans, each Clear Quartz crystal is unique, each with its own personality, lessons, and experiences. The crystals attracted into one's life are stones that will in some way help facilitate personal growth and awareness. They may work subliminally in unawakened minds, but for those spiritually attuned to the universe Quartz crystals are like beacons of light and positive energy to be used in daily thoughts, feelings, words and actions and integrated onto the earth. [Raphaell, 50-51]
As a connection between the physical dimension and the spiritual, Clear Quartz enhances communication with plants, animals, minerals, and in speaking with and receiving information from the Divine and other-worldly masters, teachers and healers. Its natural tendency is for harmony and brings a sense of purpose to those who resonate with it. [Melody, 503]
Hematite
Hematite is a stone that is most commonly - and most strongly - used to ground or stabilize and for protection. In spiritual work, hematite is an excellent stone to help keep yourself connected to the Earth plane, as some would say via the silver cord, so that your spiritual learnings and travels can be done safely and things learned can be brought back to daily life more easily.
Hematite is used to bring mental organization and is very grounding and calming. It can help with original thinking, logical thinking, and mathematics, any type of thinking which requires significant mental organization.
Emotionally, hematite decreases negativity. This lowering of negativity can benefit by helping balance the body/mind/spirit connection. It also is said to balance the meridians, boost self-esteem, and self-confidence.
Lava
Properties: The elemental powers of fire and earth, lava rocks are rich in minerals from deep in the earth's core. Born of fire, these molten creations raise to the surface and become porous creations of earth. Fire is one of the four classical elements in ancient Greek philosophy and science. It was commonly associated with the qualities of energy, assertiveness, and passion, while earth was commonly associated with qualities of practicality, restraint and materialism.
Lava rocks embrace both elements. These red and black lava rocks are a wonderful tool for the root chakra. The can be used for grounding, protection and making a connection to the earth. They allow us to "root" scattered energy, find focus and bring balance to our center by embracing practicality. This stone is beneficial when your 1st and/or 2nd chakras are energetically weak. They encourage stimulation.